Enjoy our Sea
In winter, the desire to show off the swimsuit is never much. Although Madeira enjoys a mild climate, the temperatures off the coast are always lower and not so easy to bear with less clothing, hence that in winter catamaran tours do not promote the practice of diving in the sea.
Already during the summer, in a wave of relax, the Atlantic overflows with invitations for you to come with us to swim with temperatures above 20ºC. From June to September, we stop at our trips to enjoy the crystal-clear waters on the Cetacean and Sunset Observation tours. From May to October, we opened the bathing season, so to speak, in Desertas and Fajãs.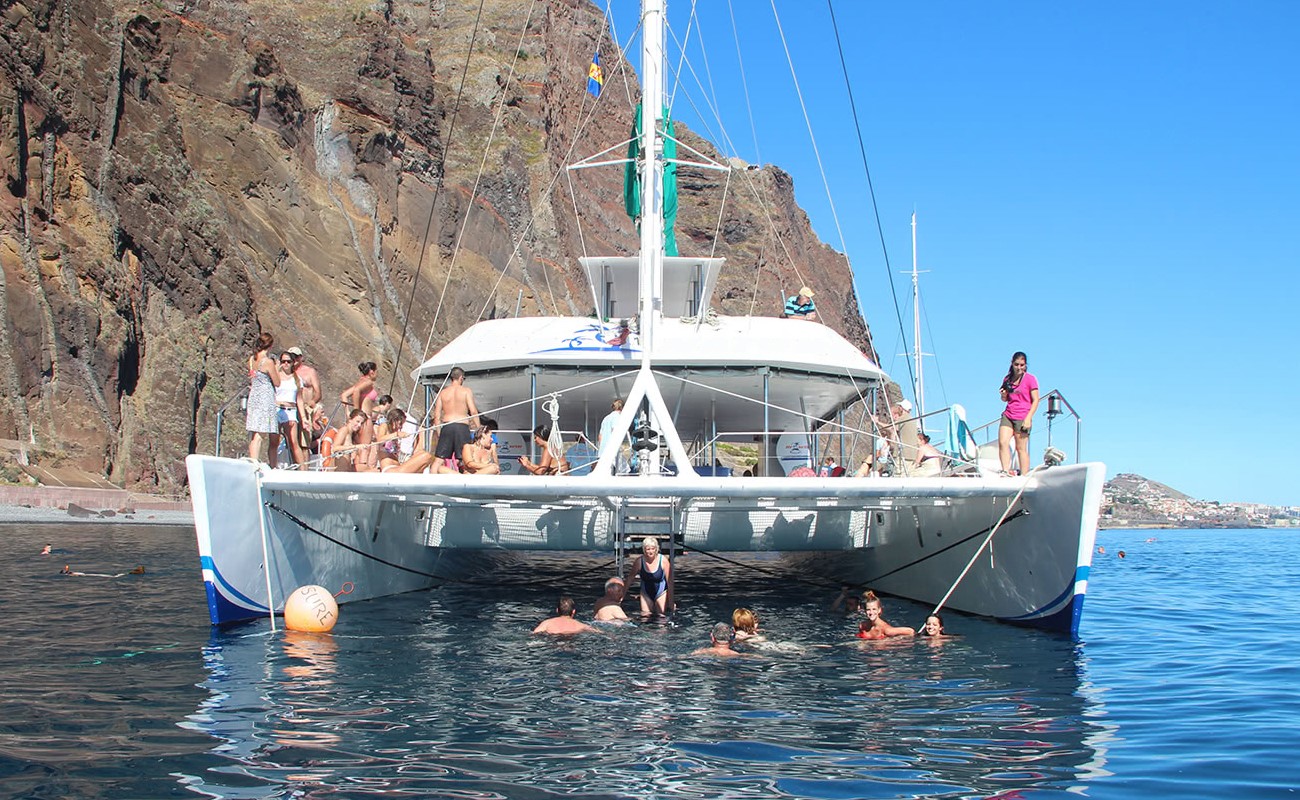 SNORKELING
First, we go out to sea. Next, we do everything we can to make our know-how, nature and marine life align to see cetaceans. Then, entering one of the mildest waters of the North Atlantic and snorkeling is an idea that comes up right out.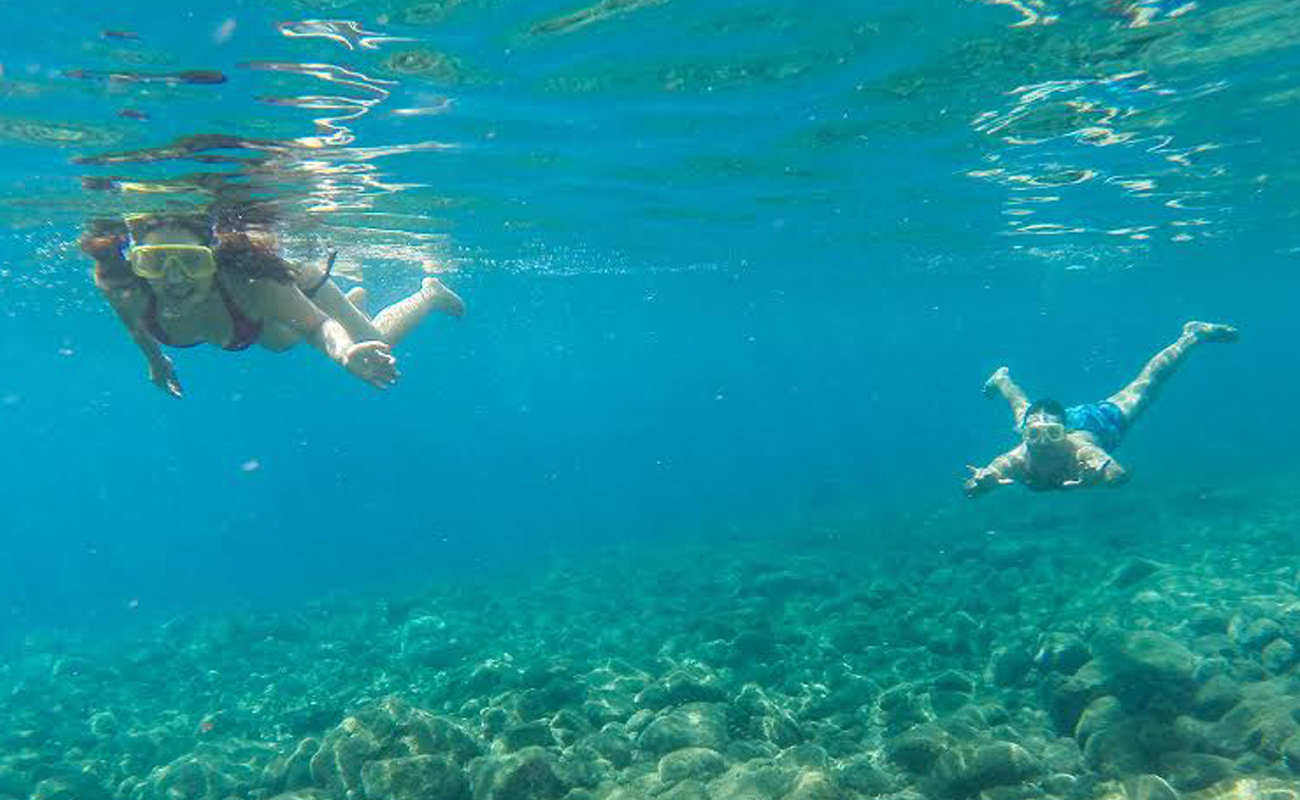 It is usually an activity that amuses and attracts all ages. Therefore, we offer masks and tubes free of charge on our trips. These stops will be made whenever there are safety conditions.
STANDUP PADDLE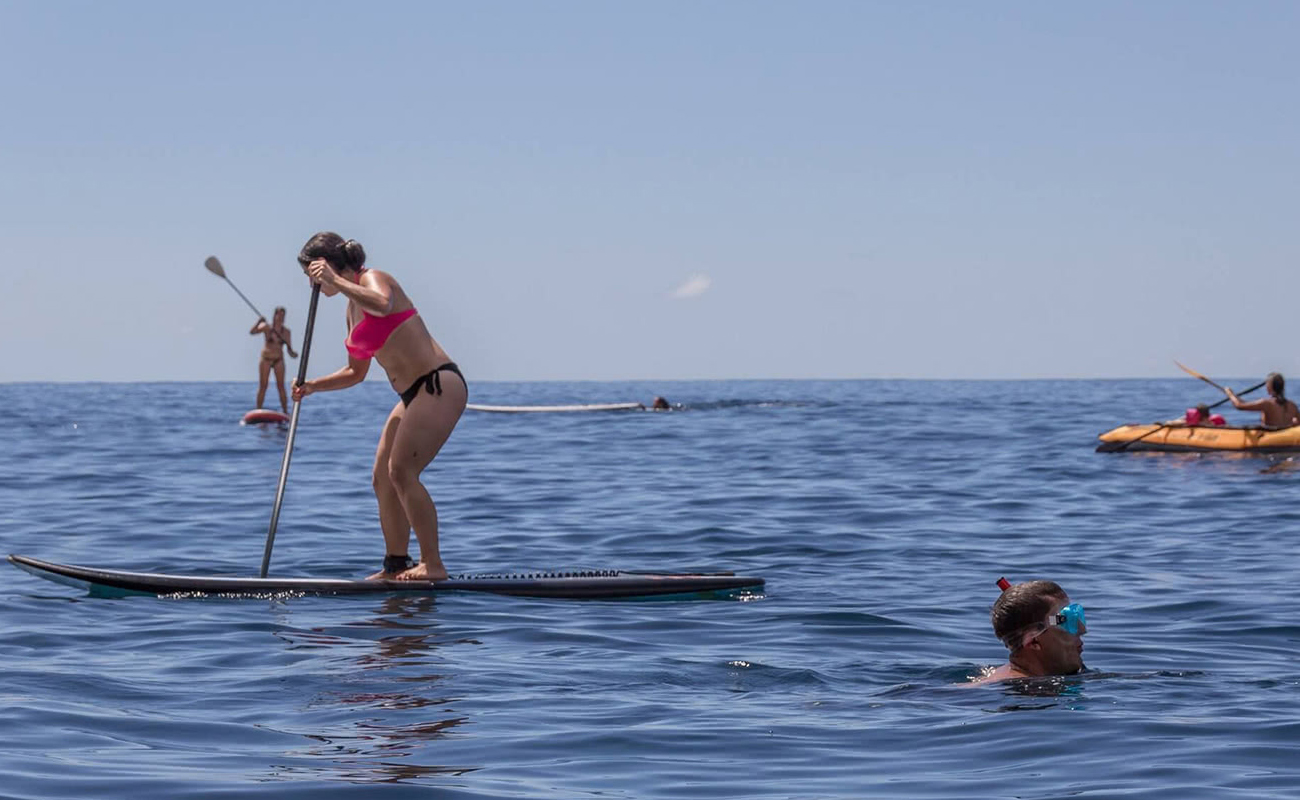 On the longest tours, to Desertas and Fajãs, we invite our passengers on board to try free standup paddle, a relaxing sport that has been on the wave crest for several years. With a special board and paddle, you'll be able to get a different perspective on the island and, of course, the dedication of a monitor to reveal tricks and help in whatever it takes.
GUARANTEED SIGHTING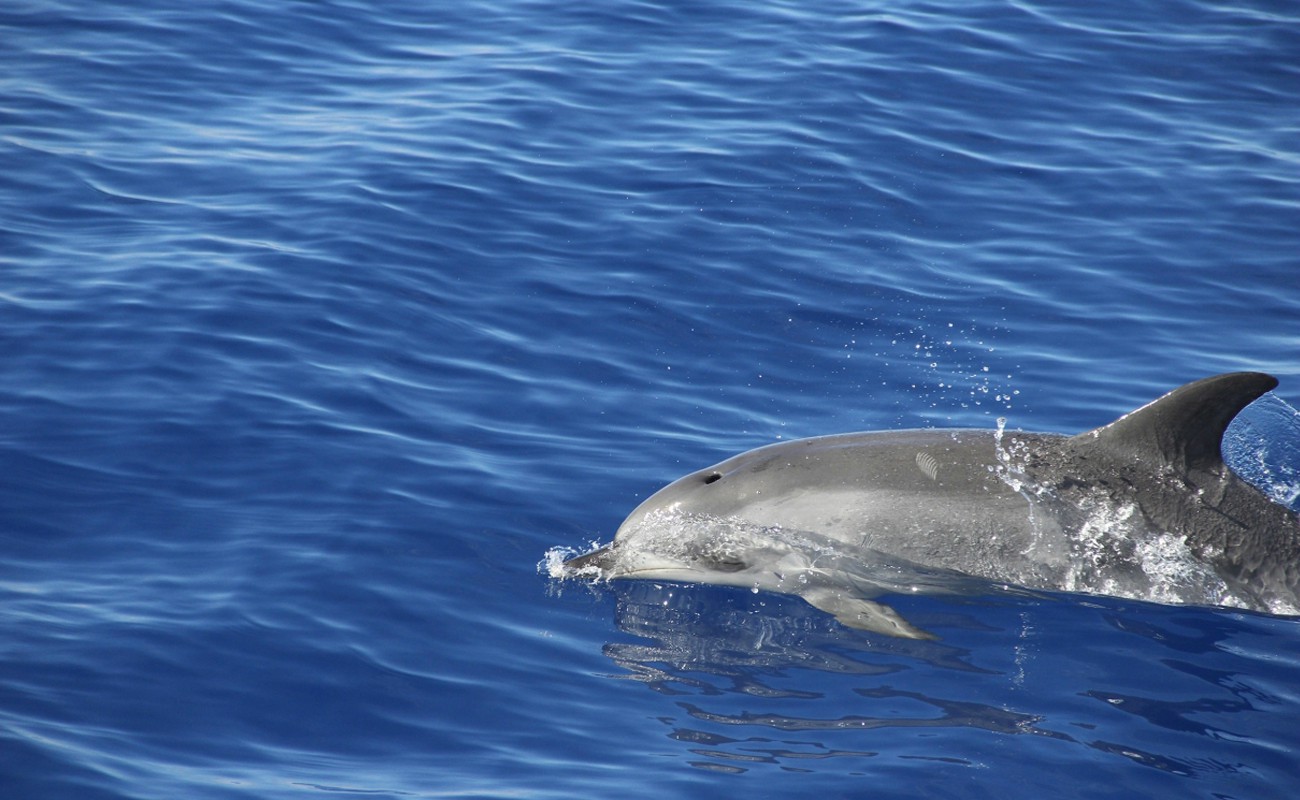 On most days, nature has the azimuth tuned to see marine animals in all its splendor. However, there are (rare) days when not all of our crew's experience and know-how can sync with sea baths with dolphins and whales. So if we can't show you cetaceans on the 'Cetacean Watching' and Sunset tours, we offer you the second trip*.
The offer of this 2nd trip is personal and non-transferable, and the warranty is for life. For real.
*From June to September 15, the complimentary trip will be made upon our availability.
BOAT TOURS AND DOLPHIN AND WHALE SIGHTING
With a friendly and professional staff, premium service and a comfortable luxury catamaran yacht, we guarantee you will enjoy an amazing day of dolphin and whale watching with us.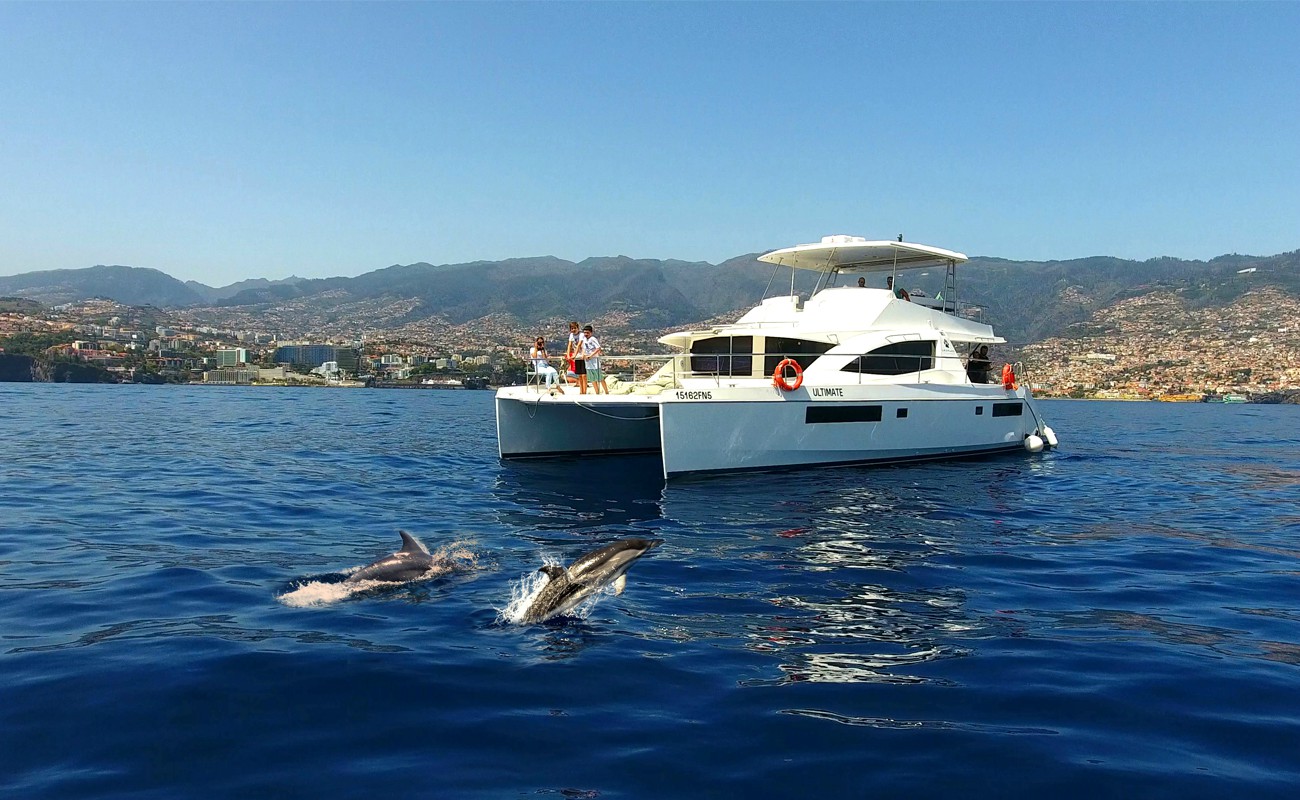 Our company is the first dolphin and whale watching tour operator in Funchal, providing a high-quality service. We pride ourselves on being pioneers in the local industry.
Our tour groups are limited to the maximum 17 people + 3 crew, ensuring that all our passengers enjoy privileged visibility of all types of marine life encounters.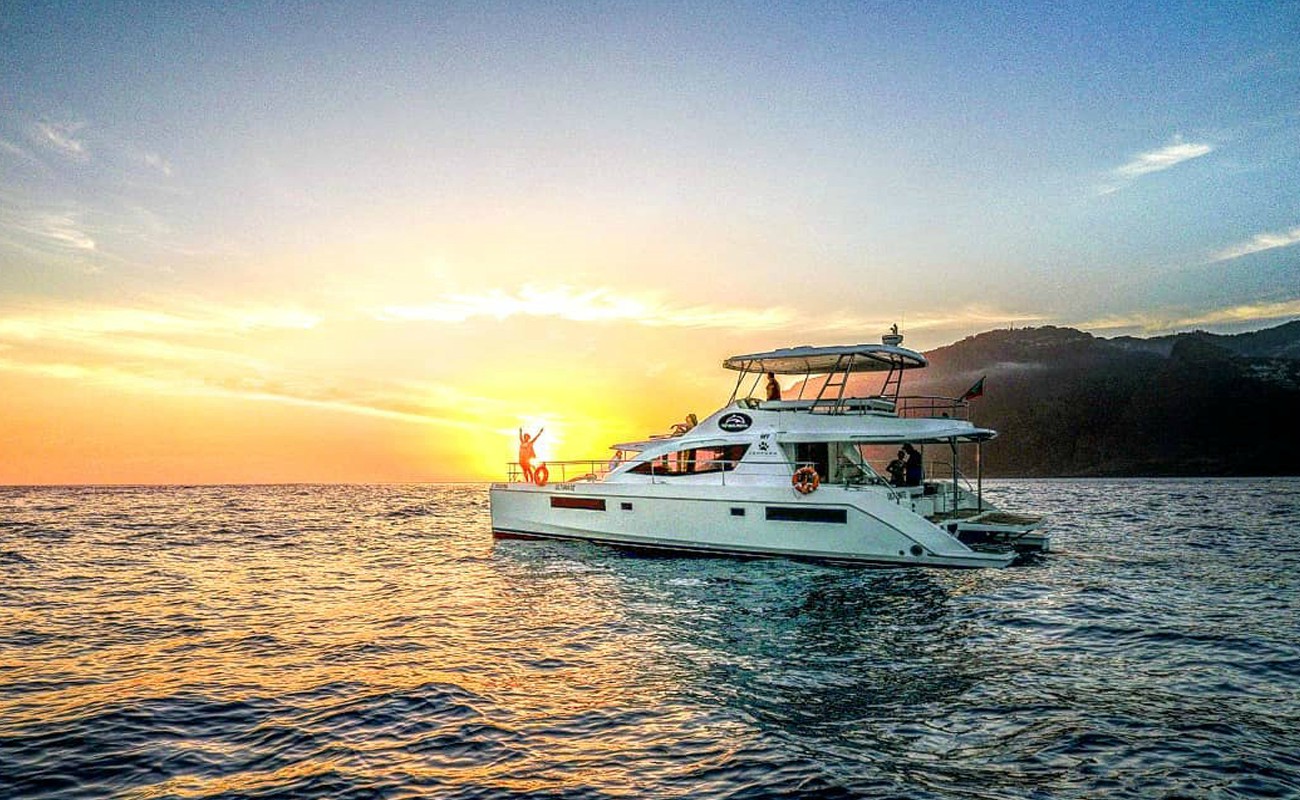 The trip lasts 3 hours, where you can enjoy a variety of underwater animals and stunning panoramic views that you will never forget. The tour starts at the dock of Funchal Marina and continues with a tour of the ocean in search of dolphins and whales.
After a 30-minute stop near Cabo Girão (586m) – The second largest sea cliff in the world and the tallest in Europe – you can enjoy a break from bathing in the sea in the crystal clear waters. After a swim, we will return to the marina where you can relax and enjoy the views of funchal's west coast.
During our excursions, you can enjoy a free bar with champagne, wine, beer, non-alcoholic drinks and light snacks. You'll also have access to the large front cockpit, a flying bridge, free wi-fi, a charging station and of course a shower and a toilet.
A professional biologist-guide, certified by the Institute of Forestry and Nature Conservation for Cetacean Observation and a photojournalist, will be available on all our trips, providing valuable insight and a photographic report of your trip.
Combine this with our experienced and experienced crew, dedicated to providing you with the closest possible dolphin and whale encounters. You can be sure that you will have the best experience and build unforgettable moments for children with these amazing ocean creatures.
OFF Road Tours 4x4
Enjoy the entire Jeep 4X4 tour and enjoy the magnificent scenery of unfamiliar areas. You can visit the most remarkable and unspoiled areas of this wonderful island. Every day, in an adventurous way, we will show you the true spirit of the island as you have never known it. Between half-day tours, full-day tours or private tours, you'll have a unique and exceptional experience. Get to know the island like you've never known before. With 30 years of spirit, we take you to know and enjoy magnificent scenery and hidden places of the island.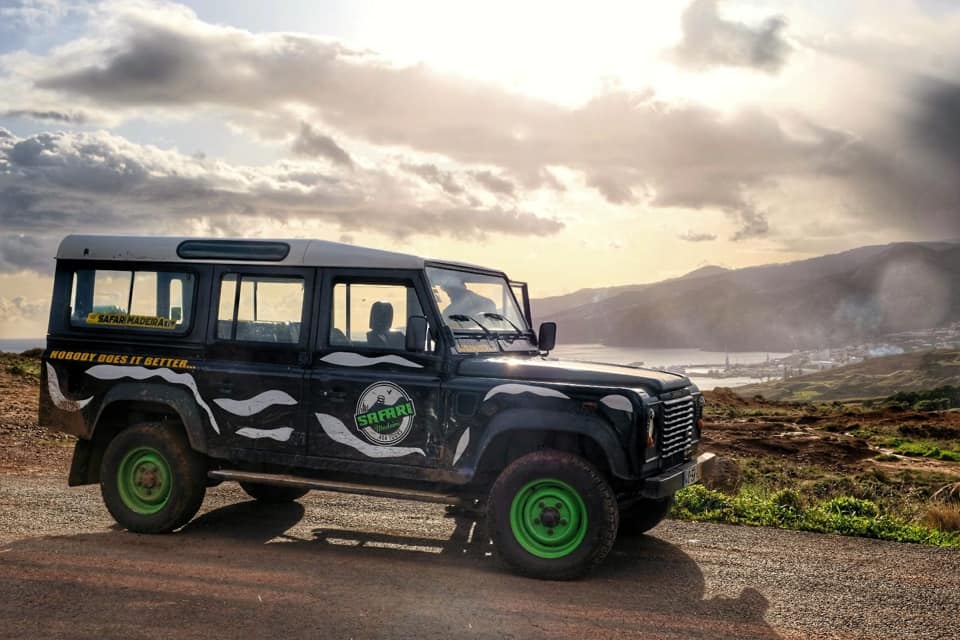 OFF ROAD TOURS 4X4
For those looking for adrenaline and emotions, this text is for you.
Now yes, the introduction... Madeira Island, with its 742 km2, in which it is only 1/3 of its area is inhabited, restricted almost only to the coastal zone, with a forest that is a true relic of prehistory, with an average altitude of 1300 meters, rugged slope, deep valleys, imposing mountains, micro climates, if we join these facts an impressive network of dirt rails crossing dense forest patches, centuries-old cobbled paths that have fallen by the wayside, linking villages that have stopped in time, makes perfect sense to travel in a 4X4 car with open roof, with professional and experienced drivers, well informed, friendly, always well disposed and with a smile on his face.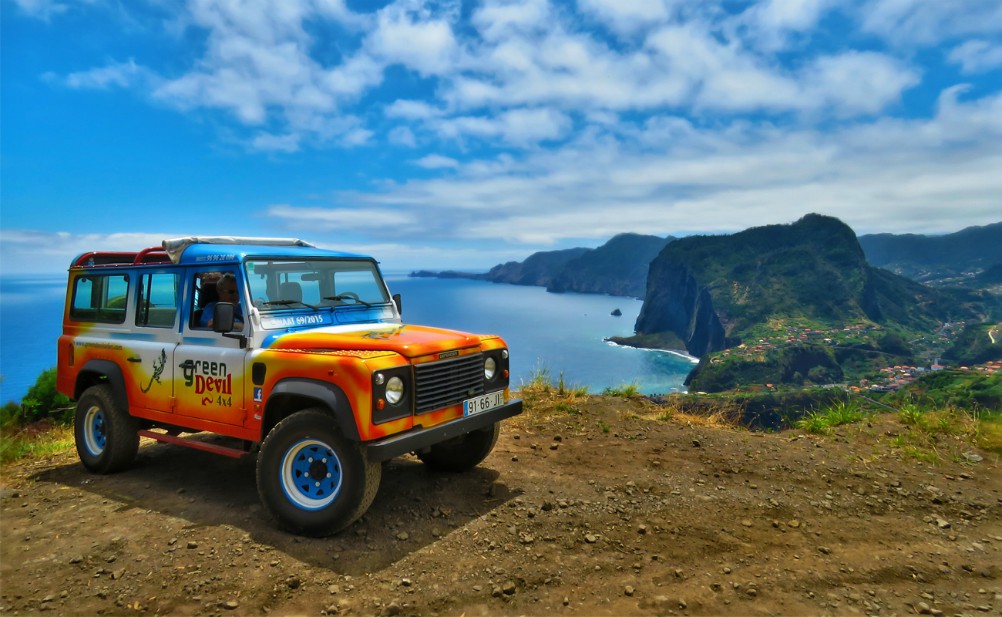 We, the guides/drivers want to show you genuine places that many places do not know, we love to see your reaction, your expression of wonder, we want you to come back here and bring friends, our goal is to make you Madeirans honorary and transmit the love we feel for our island, even if it is by force of Poncha!
Get ready for unforgettable moments!
CANYONING
Due to its volcanic origins and orographic characteristics Madeira Island is a world reference as one of the best destinations to practice this stimulating mountainactivity.
Canyoning primary consists of the descent of watercourses in an adventurous way with an exciting and very intimate contact with the exuberant nature of the Island.
Immersed in this unique nature the element of adventure is widely present along the routes and you will have to use various techniques as a means of progression to overcome a variety of amphibious obstacles.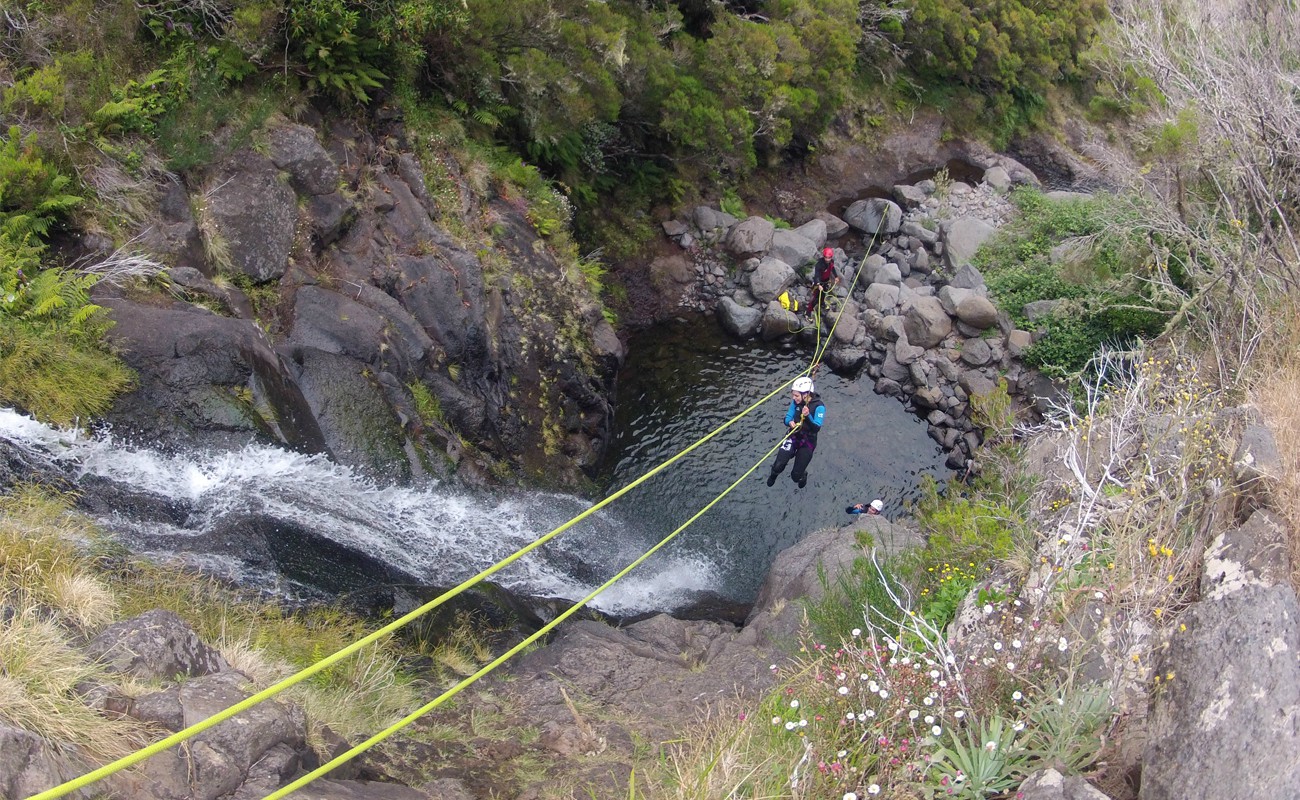 Pedestrian dislocation within the uneven watercourse and jumps to crystal clear pools, sliding on naturally carved water slides are all part of the gorge, but certainly the biggest attraction goes to the use of various rope techniques for rappel down from incredible paradisiacal waterfalls.
Without a doubt, it is a must-have activity with lots of fun and adventure. As long as you get in touch with nature's most amazing and exclusive places.
Due to the environmental specifications where this activity occurs, it is always done in small groups providing a superior quality and a safer experience.
COASTEERING
This activity is suitable for all ages and occurs in the warm waters of the Atlantic Ocean that surround the island, encompassing the movement along the intertidal zone on one of the most beautiful rocky coasts of Madeira Island, several techniques are used to overcome the route whether on foot, swimming, diving, climbing, without boats, surfboards or other boats.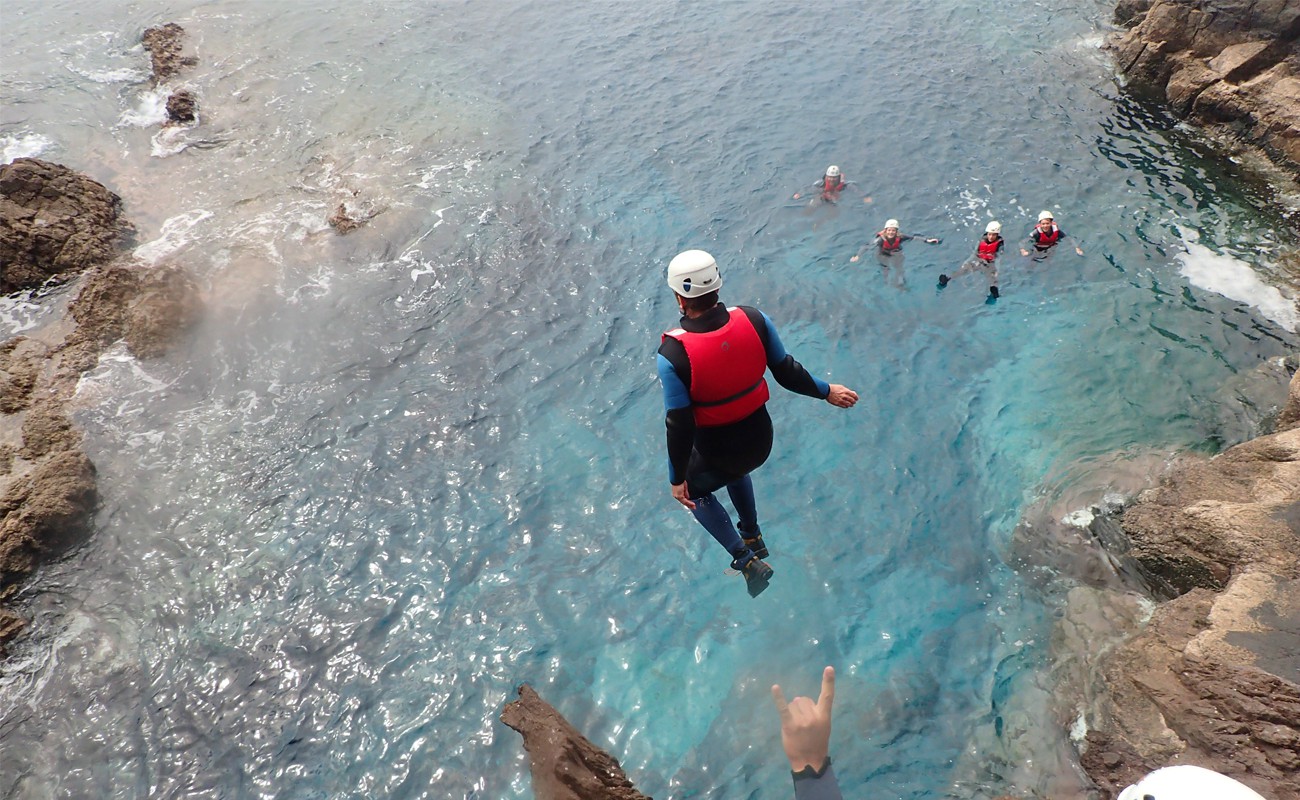 All this is done in a very special nature reserve in the Natural Park of Madeira. If this isn't enough for you yet, we have a lot more.
As the activity is developed in crystal clear waters, snorkelling is also included.
BIKE TOURS
What we have in store for you are completely unforgettable trips, from the highest peaks to sea level, whether on the north or south side of the island of Madeira.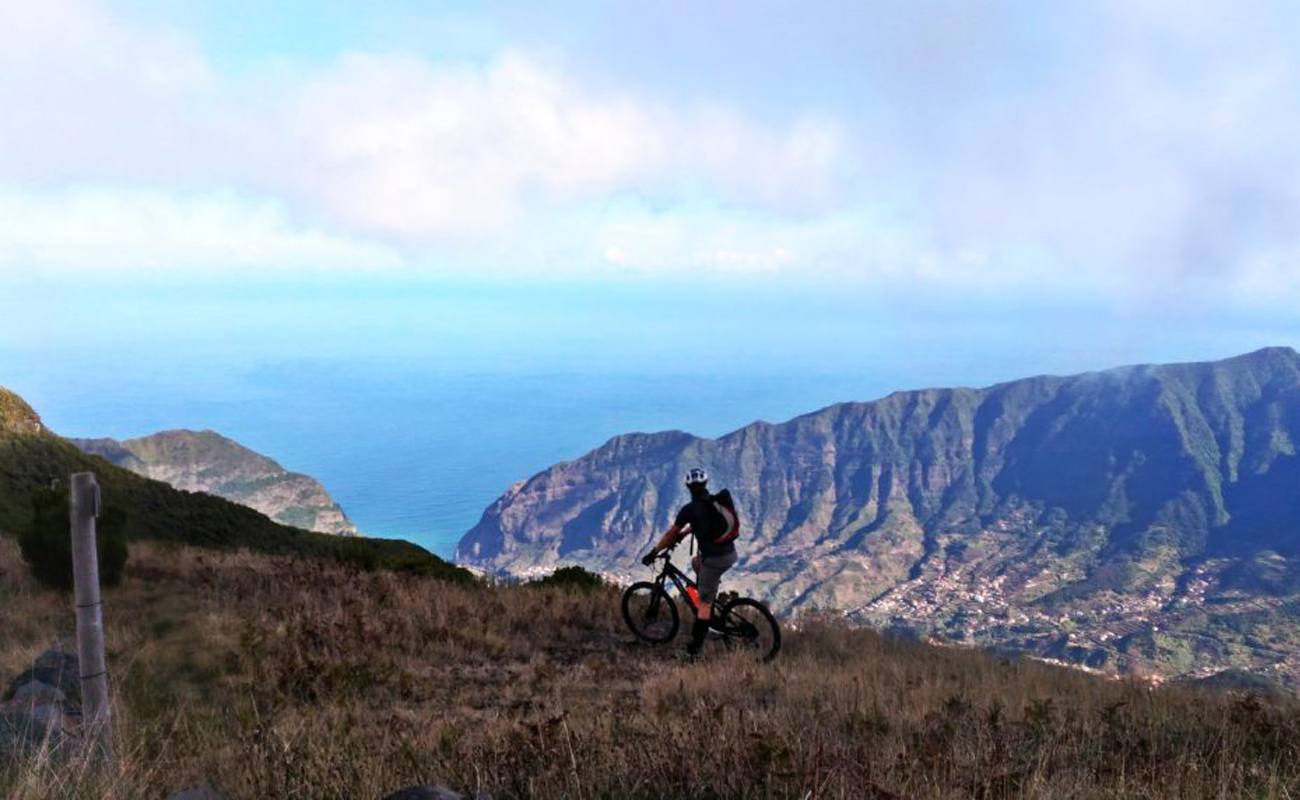 On this tour we will take you along several climatic floors that provide unique and stunning landscapes with lots of excitement. For those who don't want the extreme hardcore downhill this is undoubtedly number one on bike tours on the island.
On this tour we will take you along several climatic floors that provide unique and stunning landscapes with lots of excitement. For those who don't want the extreme hardcore downhill this is undoubtedly number one on bike tours on the island.
BOAT TOUR
Come and enjoy a tour in the sea in the typical boat of Câmara de Lobos 'Xavelha', unique moments on board, with lots of history!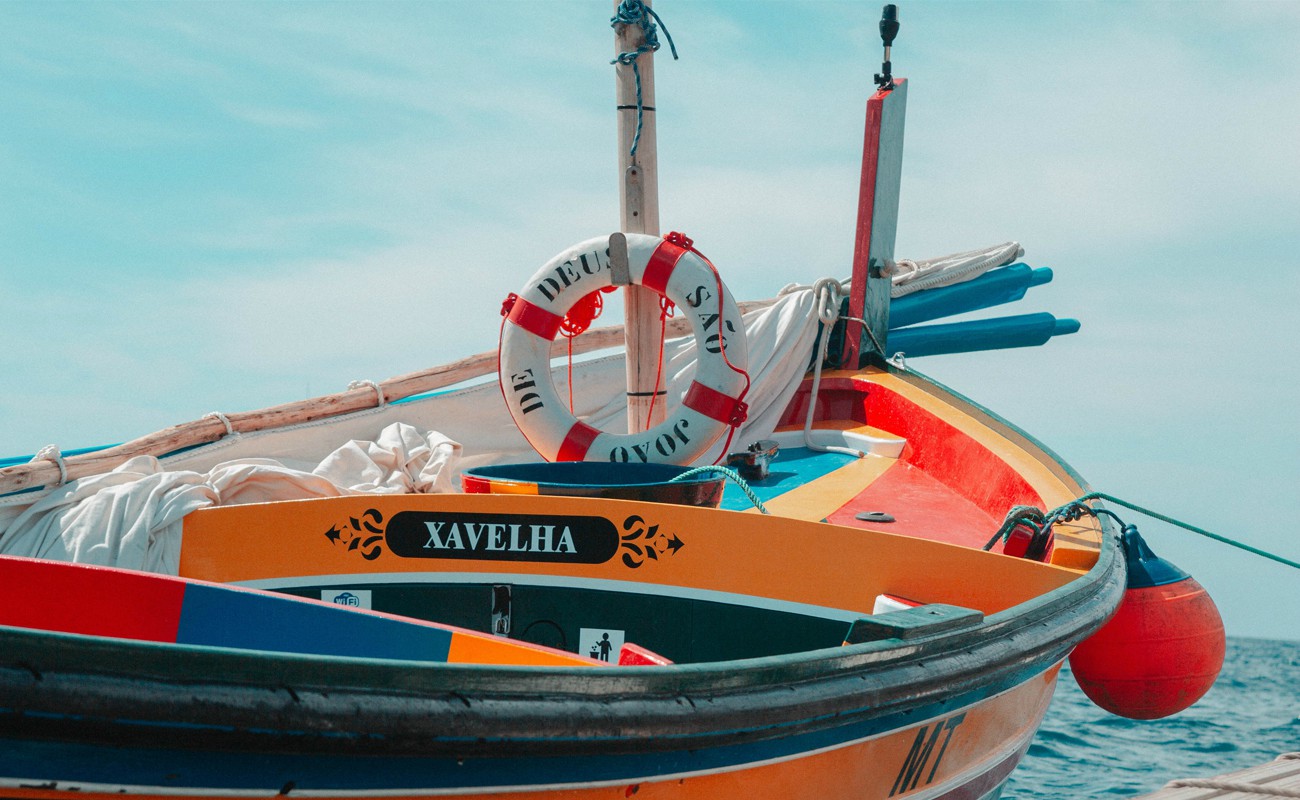 TUK TUK TOURS
Travel through the narrow, cobbled streets of Funchal's old town, or take in spectacular panoramic views of Cabo Girão or Garajau. Climb the hills to the picturesque villages of Monte, Camacha and Curral das Freiras, breathe in the fresh air, feast your eyes on the dramatic views of the mountains and feel the unique craftsmanship.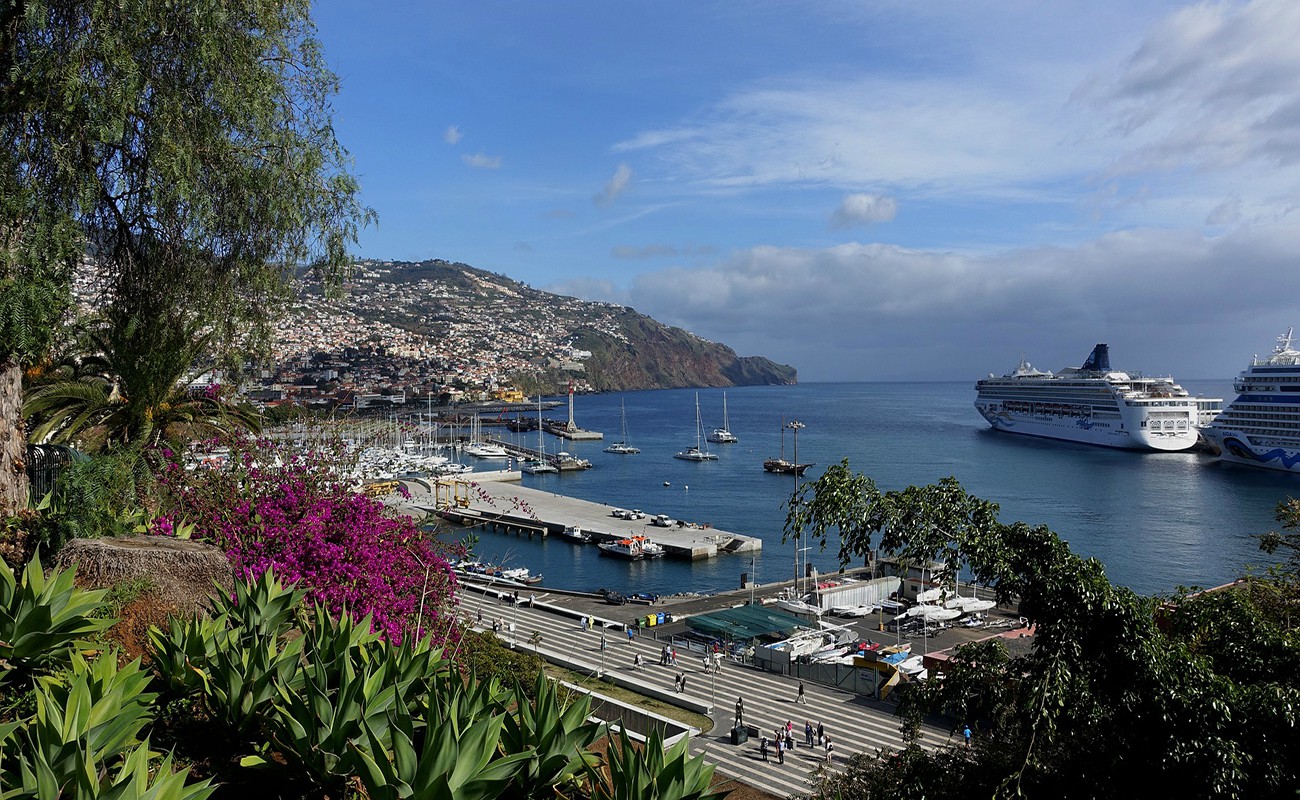 HIKING EN PEAKS
Pico Ruivo, with 1862 meters of altitude is the highest mountain of Madeira Island, it is also the third highest mountain in Portugal. To access the peak, you must reach on foot. The best way is Pico do Arieiro (the 3rd highest mountain on the island with 1810 meters of altitude).
It is popular for being the way in Madeira with the most stunning views due to the meteorological diversity along the walk. You will feel that you are walking "above the clouds" and on the challenging path you will find some tunnels and the famous "stairs to the sky".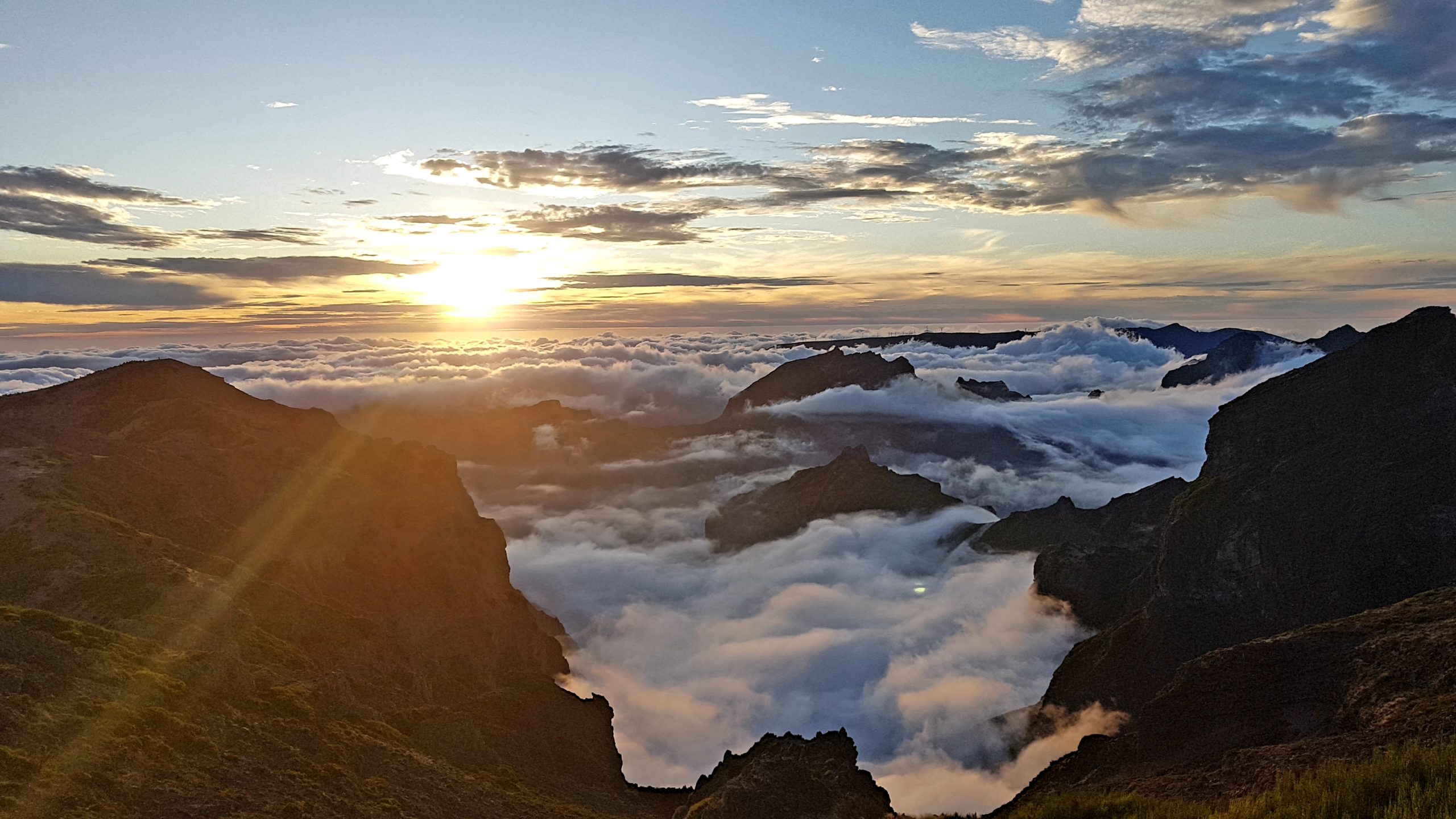 You can enjoy only in summer a Camping in Pico Ruivo where you can enjoy a fantastic sunset.